The pandemic has made for drastic shifts in all areas of life, even for royals. With more and more engagements happening virtually, we've gotten to see a whole new side of royal interactions, and it's been so much fun for us as home design enthusiasts to see glimpses into the very private spaces of very public people.
Meghan and Harry have, of course, stepped away from "working royal" status, but they continue to be engaged in many engagements that are important to them – and in doing so have revealed glimpses into their new California mansion. Last night, Meghan appeared on America's Got Talent to voice her support for Archie Williams, a competitor who had bee recently released from prison after 36 years of wrongful imprisonment thanks to the Innocence Project. During the heartfelt clip, she shared her thoughts about Archie, but also shared an area of her and Harry's Montecito home previously unseen.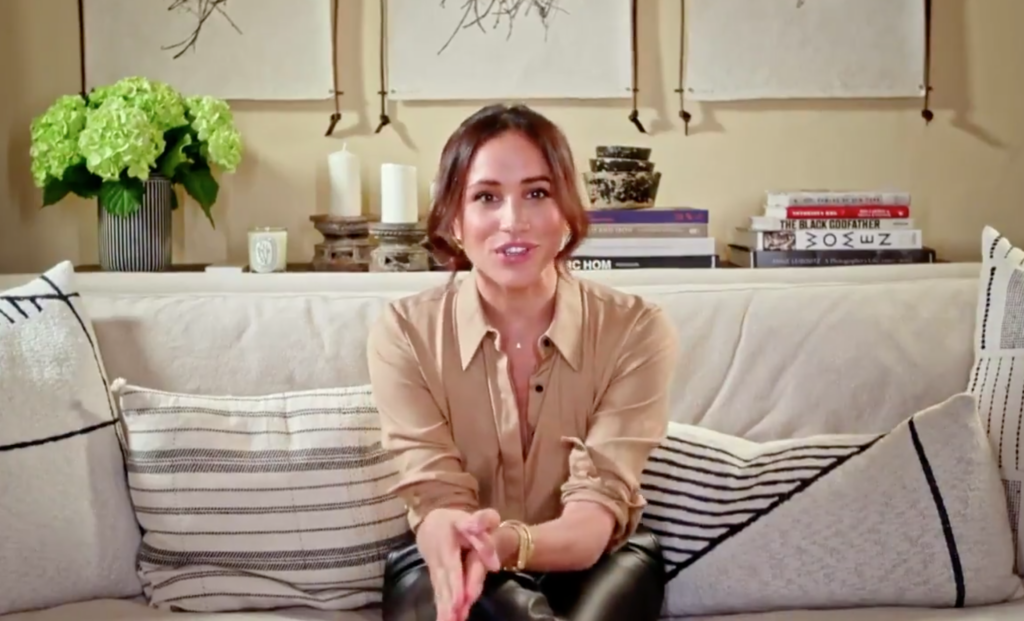 We knew the home was decorated in muted neutrals (think creamy beige and whites) and accented with classic dark wood and hints of colour – and this room was no different. In a variety of muted tones paired with texture, the room was a cohesive and stylish locale perfect for relaxing and watching TV… or recording Zoom calls for a national TV audience.
We couldn't help but notice some of the décor choices Meghan has made in the space – the stacks of books and candles – are very much like her Toronto home was decorated. We love that she's embracing her design roots for her new family home. The books include Annie Leibovitz, A Photographer's Life, Women: The National Geographic Image Collection, The Black Godfather, Wood and Iron: Industrial Interior and Marc Hom Portraits.
We also spotted a Meghan favorite – a Diptyque candle! We caught a glimpse of the brand's 
Tubereuse candle
, which is a scent we haven't seen evidence of in Meghan's homes before.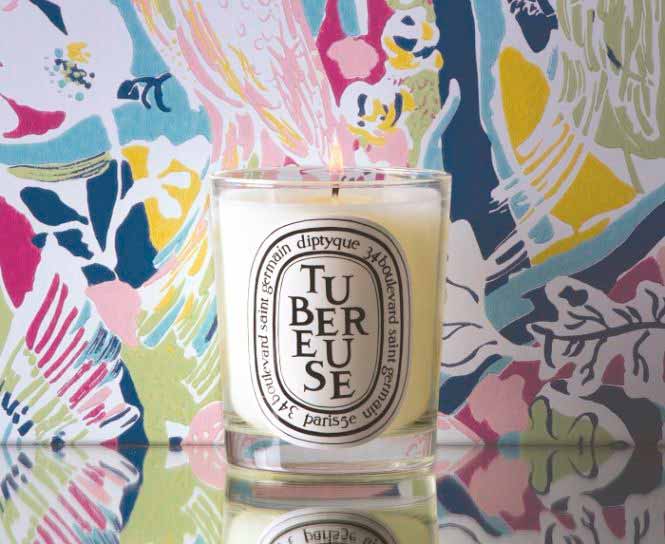 Also seen were a great blue and white striped vase housing some hydrangeas, some rustic look candle holders and a set of three nesting bowls. There were also three pieces of art from Barloga Studios, three images from their 'nest' series all hung in the most unusual and unique leather and steel frameless hangers.
The unique wall hanging mechanisms are seen below with some of Barloga Studio's other prints. The brand shares that these wall hangings offer an easy and inexpensive way to display their prints without the hassle of custom framing. No damage is done to the print so that framing at a later date is always an option.