There are arguably very few things in life as calming as looking at a clean, organized and beautifully arranged home. One royal we know agrees with us on this is Crown Princess Marie-Chantal of Greece, who shared that she loves "reorganizing and tidying [her] house" and also shared the aesthetically pleasing details of her work.
Isn't it gorgeous? We love the way everything is clearly visible when you first walk in, and clearly labelled for ease of reference. No more wondering if you're out of an ingredient, you can quickly and easily see what you have. We've tracked down all the elements we could from Marie-Chantal's pantry – from the drinks to the labels on the jars – and have them ready to share.
Marie-Chantal turned to several well known home brands – like Restoration Hardware and The Container Store – to organize her pantry with shelving, labels and jars.
The Organization Tools
Marie-Chantal chose shelving that was repurposed from the design of a rolling baker's rack from the early 20th century to hold all of her basics and supplies.
She organized by colour, and then added in labelled glass jars and vintage looking mesh wire baskets to keep the rustic look.
The Staples
Peeking into a Crown Princess' pantry is not something that we get to see everyday, so we were naturally very curious about all the products inside – including a healthy supply of Nespresso pods!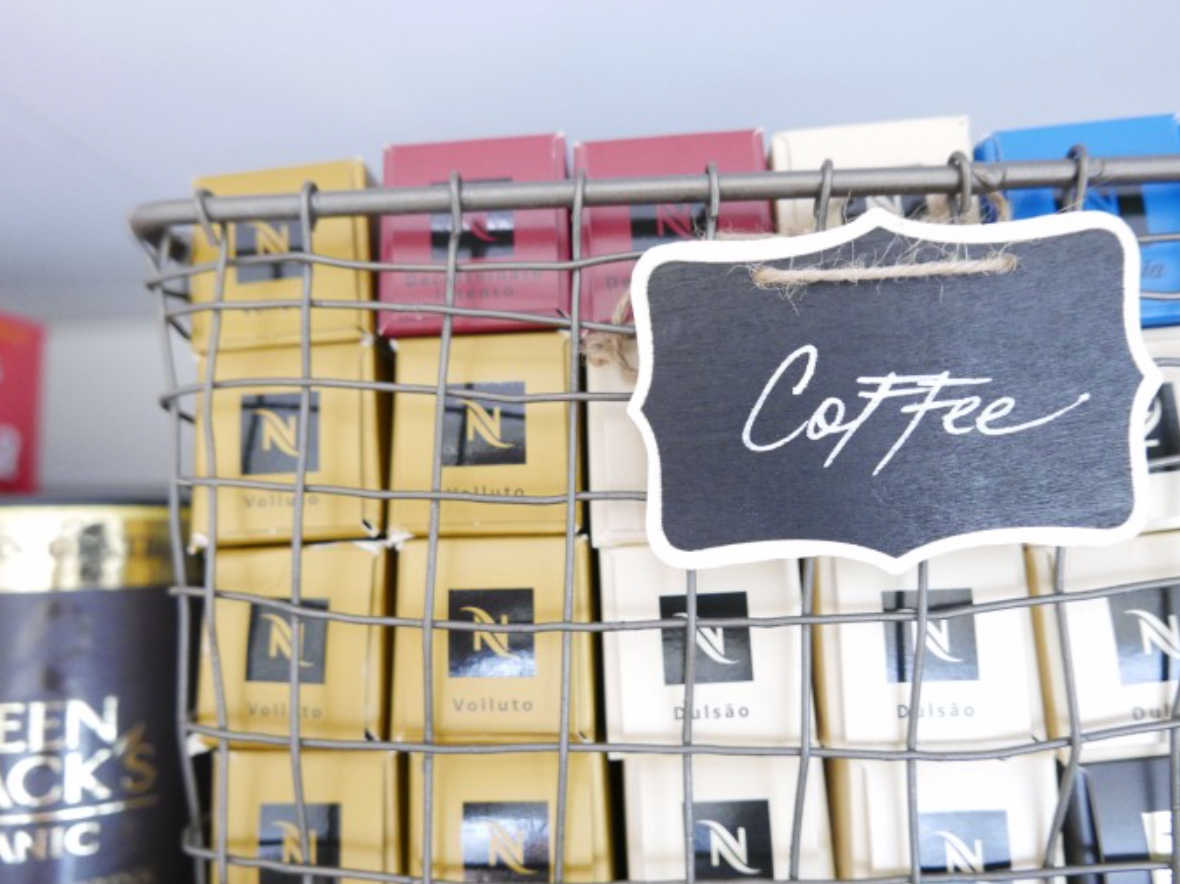 If you're also curious as to some of Marie-Chantal's favourites from her pantry, here is a shopping list:
Waitress Italian Red Rich and Intense from Puglia
Fuller's London Porter (Beer)
BottleGreen Sparkling Water
Heineken Beer
Buckwood Canadian Maple Syrup
Heinz Ketchup
Beghin Say La Perruche Pure Canne
Beghin Say La Perruche Brown Sugar
Textura Malto Surprises 1kg
Coca Cola Zero (cans)
San Pellegrino Sparkling Natural Mineral Water, 25.3 fl oz
San Pellegrino Aranciata (Limonata) Can
San Pellegrino Aranciata (Orange) Can
San Pellegrino Aranciata (Rossa) Can
San Pellegrino Sparkling Natural Mineral Water Case 8.45 FL OZ
Evian Water 330ml
Belvoir Cranberry Presse 250ml
Belvoir Elderflower 250ml
Fever-Tree Ginger Beer 16.9 FL OZ
Vita Coco Coconut Water Original
Diet Coke (cans)
Coca Cola (cans)
Schweppes Tonic Water
Schweppes Soda Water
Schweppes Bitter Lemon
Schweppes Ginger Ale
Schweppes Seltzer Water
Skippy Peanut Butter
Nespresso Decaffeinato Intenso
Nespresso Volluto
Nespresso Dulsao
Nespresso Ristretto
Green & Black's Organic Hot Chocolate
What do you think of Marie-Chantal's pantry? We also have some other storage & organization ideas used by other royals for you to peruse!